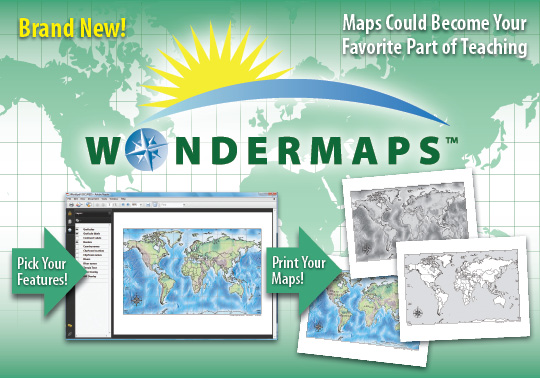 For the next five days I'm going to let you know about five different products every homeschool mom needs for 2013. Here's the first.
Recently I was blessed with a copy of Wondermaps by Bright Ideas Press. After looking over it, I started to wonder what I ever did without it.
Ha! Yes, the pun was intended. This is an excellent program. As with all of Bright Ideas Press computer programs, Wondermaps is easy to use and navigate, and it's filled with more map options than you'll need when teaching multiple children grades K-12. Your map personalization possibilities are limitless with this one program. I'll tell you more about that in a minute. First, Wondermaps is divided into four map sections:
World
United States
Historical
Thematic
The World and United States maps are just that. You can zoom in on particular states, or countries, or regions. Historical maps are subdivided into four time periods: Ancients, Middle Ages, Renaissance & Reformation, and Revolutions to Rising Times. These maps all have an option for a modern overlay to compare then and now boundary lines. This helps kids see exactly where in the world they are in relation to the world today.
The last division is seven thematic map selections that range from Biblical times to the Twentieth Century. Included are World Wars, Native Americans, American History, Chinese Dynasties and Explorers.
What makes this program different is the limitless ability to customize each map. You can zoom in on a specific region of say Africa—like the Sahara Desert, or zoom out showing the entire continent. You can also turn on or off certain features—or layers—on each map. Some of these include cities, countries, and river systems. What I like about this is with Buttercup's learning disability, I can clarify maps to her understanding. Sometimes she just can't see the lesson goal on the maps that come with the curriculum. Now I can open up Wondermaps and make a map showing the view that will clarify the lesson. I also plan to use these layer features to fit her learning style for labeling and testing purposes.
One more outstanding feature I need tell you about is the tutorial and user manual. This section is concise and simple to understand. When I first opened up Wondermaps, I didn't look at either, and I didn't understand what I should do with the program. After the quick tutorial, I was a pro. I also discovered some great ideas in the user manual to get my geography reluctant teen on the road to learning where in the world everything is with less complaining.
I'm very excited about adding this program to my arsenal of curriculum resources. I've looked at a lot of geography studies and curriculums and they all seem to be missing something. Wondermaps gives me the confidence that I can put together my own geography curriculum that is engaging, as well as informative. Plus I'll be able to bridge the gap between mapping and subjects other than history.
Disclaimer: I received a free copy of this product in exchange for my honest review. I was not required to write a positive review nor was I compensated in any other way. All opinions I have expressed are my own or those of my family. I am disclosing this in accordance with the FTC Regulations.